Help build our street presence. Download flyers and hit streets and concerts in your area.
The major labels and the RIAA knew they'd be revealed on the internet. They didn't know we'd take the fight into record stores. See the photos and get stickers.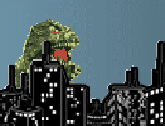 INTERVIEW
"I was sick of the perception that the RIAA represented the opinion of all record labels, and I didn't want to be lumped in with the ones they do."
Project Gallery
When the copyright cartel attacked the Grey Album (a critically acclaimed unauthorized remix), we organized "Grey Tuesday." For 24 hours, over 170 sites made the album available in protest, defying legal threats. Also see our more recent, 3 Notes and Runnin' project.
Our software development group makes free, open-source software for online organizing and strategic filesharing. We're just getting started but we have a talented lead developer and focused projects that will have an impact. Programmers wanted.
Crucial Readings
FROM DOWNHILL BATTLE
FROM ELSEWHERE
Who's getting the job done